If you have a recipe that is considerably different
than what is shown below,
please send us an email of that recipe
so we can insert it here.
We reserve the right to refuse and not list a recipe that we feel is not
appropriate or is too similar to one already listed or is incomplete.
Loquat Pie Filling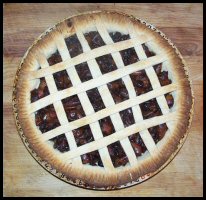 6 cups seeded loquats, coarsely chopped
3/4 cup water
1/2 cup sugar
1/4 cup brown sugar
1/2 tsp cinnamon
1/4 tsp cardamom (Black was used, but any type okay
1 tsp vanilla extract
1/3 cup dried cranberries, or other dried fruit (optional)


Stew the loquats in a covered pot, with the water, sugar, and brown sugar until the liquid is reduced and the fruit is tender, but not brown. Add all the remaining ingredients, and allow to cool covered.

This recipe will make one generous pie. I recommend a plain, unsweetened pie crust and a lattice top. Bake the pie for 10-15 minutes at 400 degrees, or until the crust starts to brown.

This recipe was brought to you by Harper
Her blog site is: Trial and Error Home Ec

She has another web site she calls
"Silver Trumpets"
Home of Biblical Judaism
We received this response to Loquat Pie Filling:
"A gal at my garden club referred me to your website for its loquat pie recipe,
which she had tried and liked. Since I have two very productive loquat trees,
I'm sure I will try several of these recipes.
One thing that would help the color of the pie and some of the non-lemon juice loquat recipes
is to add a 500 MG Vitamin C tablet to each quart or two of stewing loquats and stir it in.
It preserves and even sometimes revives their orange color. While I have used lemon juice,
it does not seem to be as effective. Best," - Stephanie Nordlinger, Los Angeles California. June 4, 2013
Loquat Jelly
With Pectin
5 lbs. ripe loquats
1 cup water
1/2 cup lemon juice
1 package pectin
5-1/2 cups sugar
Gather loquats when full size, but still hard and only partially turned in color. Wash, remove seeds, and blossom ends. Barely cover with cold water. Simmer covered for 15 minutes Cook slowly until pulp is very soft. Strain juice through jelly bag. Measure 3-1/2 cups loquat juice and lemon juice in a large kettle. if more juice is needed, fill last cup or fraction of a cup with water. Add pectin. Stir well. Place over high heat and bring to boil, stirring constantly. Add the sugar and mix well. Continue stirring and bring to full rolling boil. Boil exactly 2 minutes. Remove from fire and let boiling subside. Skim carefully. Pour into hot sterilized jelly glasses, leaving 1/2-inch space at top to cover at once with melted paraffin. (Or pour into hot sterilized jars and seal with sterilized lids.)
Loquat Jelly
No Added Pectin

Gather loquats when full size, but still hard and only partially turned in color. Wash, remove seeds, and blossom ends. Barely cover with cold water. Cook slowly until pulp is very soft. Strain through jelly bag. Drain and cook until juice is thick and cherry (red) colored, then add an equal amount of sugar. Boil rapidly to jelly stage. Pour into sterilized jelly glasses, leaving 1/2-inch space at top to cover at once with melted paraffin. (Or pour into hot sterilized jars and seal with sterilized lids.)
Loquat Cobbler

It's sooo yummy!
Pure heaven served warm topped
with vanilla bean ice cream.

Ingredients
Filling
2 lbs loquats, seeded and quartered
7 TBS Sugar
1 TB All Purpose Flour
1/4 teaspoon Almond Extract
1 teaspoon cinnamon
1 1/2 teaspoons Lemon or Orange Juice, fresh squeezed

Topping
3/4 cup All Purpose Flour
3/4 teaspoon Baking Powder
1/4 teaspoon Baking Soda
1/2 teaspoon salt
3 teaspoons sugar (reserved)
1/2 cup Buttermilk well shaken
3 TBS Cold unsalted butter cut into bits


Make Filling
Toss all filling ingredients together in a 9-inch glass or ceramic pie plate
and let stand until juicy, about 30 minutes.
Preheat oven to 400°F.

Make Topping
Sift together flour, baking powder and soda, salt, and 1 teaspoon sugar in a bowl.
Blend in butter with your fingertips or a pastry blender until mixture resembles coarse meal.
Stir in buttermilk with a fork just until combined (do not over mix).

Drop rounded tablespoons of dough over filling,
leaving spaces in between
to allow topping to expand.
Sprinkle with remaining 2 teaspoons sugar.
Bake cobbler in middle of oven until fruit is tender
and topping is golden, about 30 minutes.
Cool slightly, about 15 minutes, and serve warm.

Kelly
Loquat Jam

Wash, remove seeds, and blossom ends from whole ripe fruit. Run through food chopper and measure pulp. Barely cover with cold water. Cook until tender and deep red.

Add 3/4 cup sugar to 1 cup of loquat pulp. Cook until thick, stirring constantly. Pour into hot sterilized jars and seal with sterilized lids. It is best to cook small batches of no more than 5 cups of fruit pulp in one kettle.
Spiced Loquats

For three pints of sweet pickles, wash 3 pounds of firm loquats and remove the stem and blossom ends; do not peel them. Drop them into the pickling syrup given below and cook until tender. Remove the fruit. Pour remaining syrup into sterilized jars. Fill almost to overflowing with the hot syrup and seal at once.
3 cups sugar
1-1/2 cups water
1-1/2 cups cider vinegar
1 tablespoon whole cloves
1 tablespoon whole allspice
2-inch stick of cinnamon
Combine sugar, water, and vinegar in a large kettle. Tie the spices loosely in cheesecloth and add. Boil 10 minutes. Put in fruit and cook gently until tender. This syrup may be used for apricots, peaches, pears, apples, crab apples, plums, loquats, and kumquats.
Blanching
To peel loquats for sauce and fruit cup, blanch by pouring boiling water over loquats to cover. Add 1/4 cup lemon juice to each quart of water. Cook over low heat about 5 minutes, just until skin loosen. Drain and reserve liquid. Cool, peel, halve, and seed loquats (remove seeds).
Loquat Sauce for Ice Cream
Combine 2 cups juice from blanched loquats with 2 cups sugar. (see Blanching above) Bring to boil, cook over medium heat until syrup spins a 2-inch thread when dropped from a spoon (230 degrees to 234 degrees Farenheit on candy thermometer), about 20 minutes. Cool completely. Add 2 cups peeled, halved, seeded loquats. Chill, then serve over ice cream. Makes about 3 cups sauce.
"Sugar and Spice
and Everything that is Nice"
I have created a wonderful breakfast treat with loquats by just peeling and seeding. Sprinkle fruit with granulated sugar. Mix cream cheese with powdered sugar and cinnamon and put in cavity. I top with a cut piece of strawberry. They are yummy!

Marlene Hildebran
San Diego, California
Loquat Wine
Loquat wine needs to age at least one year.
Therefore, it would be best to plan in advance.

INGREDIENTS:
9 pounds whole fresh loquats with pits in place.
7 pounds if pits are removed.
(Fresh, ripe picked is best. Wash before using.)
2 gallons boiling water
Juice of 1 lemon
(Used as an anti-oxidant)
5 pounds sugar
1 teaspoon yeast nutrient, if available
1 package wine yeast, if available
1/2 teaspoon pectic enzyme, if available
1 campden tablet, if available

PREPARATION:
In a large container such as a 5 or 6 gal heavy duty plastic bucket or an earthenware crock, mash the loquats. Cover with boiling water, add lemon juice, and quickly stir for about two minutes. Cover with a clean linen cloth. Let rest in a cool, dark place, stirring daily for one week. You can also blend in 1 package wine yeast and 1 teaspoon yeast nutrient, if available.

After one week, strain the mixture through a double-layer of cheesecloth into a large, clean bowl, discarding loquat pulp and pits if any. Combine loquat liquid with the sugar, stirring to dissolve sugar. You can also add pectic enzyme and crushed campden tablet, if available. Pour into cleaned container such a plastic bucket or crock and let stand another week, stirring daily.

After the second week, pour the loquat liquid into 1-gallon glass wine bottles or similar container and cork loosely. Use fermentation locks instead of corks, if you have them. Let rest in a cool, dark place for 3 months. When wine is clear and no longer fermenting (bubbling), pour into individual bottles, cork, and age at least 1 year before drinking this delicious loquat wine.

Will yield approximately 2-1/2 gallons or 40 servings.
Another recipe for
Loquat Jelly
with Pectin

Wash loquats and remove seeds. Place in saucepan and add enough water to barely cover fruit. Cook gently for 10 to 15 minutes, then strain through jelly bag or four layers of cheese cloth. (For greater yield of juice, twist the two ends of the bag in opposite direction until most of the juice is extracted. Then, strain through clean cheese cloth or jelly bag, but do not squeeze or press.)

Add the pectin to the juice and stir well. Let the mixture come to a rolling boil stirring occasionally to prevent sticking.

Add sugar and bring to a rolling boil for 1 minute.

Use three cups juice to two cups sugar (this makes a tart jelly).

Skim and pour boiling hot into jelly glasses, cool a sample of the jelly to insure that it will harden. If not, an additional box of pectin may have to be added and the jelly boiled again.

Seal and when jars are cold, test for seal.

Compote
(Defined as: Fruit stewed or cooked in syrup.)


500 gr loquats
200 gr dried apricots
200 gr dried plums
Juice of 1/2 lemon
1/2 cup sugar to taste
or equivalent sugar substitute to reduce calories

Put all ingredients in a pot, add water to the top, and bring to a quick boil for 5 minutes. Reduce heat and simmer for 10 minutes.


Another recipe for
Loquat Jam

Clean, remove pits, add water to cover just the top.
Bring to boil and then simmer on low.
Using a potato masher, mash every 1-2 hrs.
Add ginger, cinnamon, sugar, clove, to taste.

Should take about 6 hrs on low to thicken.
Then place in jars.

We have found that this jammy mush blends in great over plain cheese cake to make a unique spin on the holidays
(if it last that long)

Also, you can add half a cup to a cup
to a scratch carrot cake recipe.
It blends very nicely.

Michelle
Titusville Florida
(where the space shuttle goes up)



Poha Loquat Salsa
By Vince Mott and Ann Rothstein
Hawaii Community College - West Hawaii Culinary Arts Program


3 lbs poha cut in half
1 lb loquat peeled and seeded
3 small mangos diced
1/4 cup minced red onion
1 red bell pepper minced
3 Anaheim chilies roasted and diced
1 Kona Rangpur lime - juiced

3 slices fresh ginger
Zest of 1 tangerine
2 cups sake
6 cups water
1 Tbl lilikoi puree
1 Tbl olive oil
1 pinch salt

Cook loquats in simple syrup then cut and dice.
Save syrup to flavor salsa
Mix with cut fruit
Add lime juice to taste

Optional
1/4-cup cilantro



Click on photo
to see recipe for
Pickled Loquats
Liquor
made from
Loquat Seed Pits
This liquor tasts just like Amaretto. This recipe originaly came from Italy.
This liquor is not as strong as the French L'eau Du Vie which smells like fruit
but has no taste except pure alcohol.



Rx


1 cup Loquat seeds
Pinch of crushed vanilla bean
6 petals of Rose
4 leaves of Melissa
12 oz of Everclear Alcohol ( 90% proof)
12 oz water
12 oz sugar
Spread the Loquat seeds out on a sheet of paper or on a cookie sheet and dry them in the sun for ten days peeling away the papery brown covering off of the seeds.
After the seeds are dry you place them in an air tight clear glass jar with the melissa leaves, the vanilla, the rose petals and the alcohol. Boil the water and dissolve the sugar in it and add this into the jar with the other ingredients.
Now close the jar real tight and let it sit in the sun for one whole month, shaking the jar up several times throughout the month.
After the month is up strain all of the ingredients in the jar through a filter paper into a dark glass bottle. Cork it and allow it to sit undisturbed for three entire months. Then you can serve it.
Extra Information:
"Rx" is latin for 'take". Recipe means TAKE in Latin.
"Lemon Balm" is another name for "leaves of Melissa."
The leaves of Melissa can be obtained from Wholefoods, Apothecaries, Central Market, or some grocery stores like HEB and especially certain ethnic stores.
The alcohol mentioned here is not Rubbing Alcohol.
Information pertaining to Everclear Alcohol is found on this web page: http://en.wikipedia.org/wiki/Everclear_(alcohol)
The label on the bottle of Everclear alcohol should say 95% alcohol or 190 Proof and can be obtained from most liquor stores.
Whether you leave air in the glass jar or not does not matter.
The clear glass jar could be any kind of jar with a lid that you can fit everything in and close the top and put out in the sun.
This recipe is from Rich in Pearland Texas.
Loquat Banana Bread
Ingredients:
6 eggs
¾ cup heavy cream
¾ cup vegetable oil
2½ cups all purpose flour
3 tbsp baking powder
½ cup hazelnut flour
6 ripe Bermuda bananas or 10 regular bananas
1 cup of loquat purée 4 cups sugar
a pinch of salt
dashes of vanilla and lemon juice
Directions: Preheat oven to 350 degrees. Butter three one-quart kugelhoph moulds and dust with flour. Add sugar to eggs, beat until stiff then set aside. Purée bananas, then add vanilla and lemon juice, loquat purée, heavy cream and vegetable oil. Combine egg mixture with banana mixture. Mix flour, hazelnut flour, salt and baking powder together. Fold well into banana batter. Fill moulds three-quarters full, place on baking tray to ensure browning, and bake 45 minutes. Unmould as soon as possible after baking to avoid sogginess and let cool on rack. Bread freezes well if wrapped tightly and frozen same day.

This recipe was posted in The Bermudian Magazine
...February 25, 2019 (date?)
LoquatWorld.com
can supply you with Loquat Fruit
when in season
Can also supply other loquat items such as Loquat Trees,
Loquat Leaves, Loquat Tea, and Loquat Seed Pits
Note
Some people eat loquat seed pits (2 per day)
to prevent, treat, and or slow down cancer.
The seeds contain 1300 times more amygdalin
(B17-Laetrile) than loquat leaves.
We do not recommend or suggest eating,
chewing, or swallowing such seed pits
because the pits contain cyanide compounds.
Many people including Myself have accidently eaten
seed pits and are not aware of any ill effects.
Remember to remove the seed pits
before cooking the fleshly fruit.


Email us at:



Our mailing location is:




Jack Slevkoff's Free Enterprises
LoquatWorld.com Division
c/o 4460 West Shaw Avenue, Suite 140
Fresno, Non-Domestic
California [Zip Exempt]
usA

Must be written exactly as shown in upper and lower case letters,
with brackets as shown, and no abbreviations.
Do not use "CA" or zip.
We receive hundreds of mail and packages
in this manner without delay.
To see examples, go to:
http://www.USAvsUS.info/USA--MailPkgsReceived.htm.

To understand why,
take a look at the following web page
and discover
"The Truth as I See it"
about American governance:
http://www.USAvsUS.info





For those who come in the back door
such as through a search engine,
our web-site (URL) address is
"http://www.LoquatWorld.com"


Since the Seventeenth day of the Tenth month
anno Domini Two thousand seven
You are visitor
Thank you!